Hey Everyone! 🙂
Day by day, my free time is starting to rapidly disappear until nothing will be left of it. I've mentioned before that I'm an IGCSE student & that I currently take 8 subjects. My exams – my real exams that come from Cambridge & the ones that will determine my future, are in April & May. I'm sure you understand how important these exams are to me – or if you don't, then tough luck honey is all I can say to you. To cut a long story short, my blog posts won't be as much during the next 3 months – especially in April & May. That is why I'll be officially taking a blogging hiatus (break) during these 2 months. I'm truly sorry, and I think I already expressed before how much I love blogging & how much it means to me…but I just can't handle it all. I just thought it'd be nice to tell you a bit early. I hope you understand!
In case you haven't read the post title, I'm going to be talking about something that has honestly helped me (and still does) in life. Music. I'm targeting mostly teens here, but adults can read too!  Hope you enjoy! 🙂
---
Nowadays, we live in a world where nothing makes sense. We often find it difficult to make sense of this universe. Why? Because life can be unfair. Surprise, surprise, right? Please tell me you knew that. Anyway, it's even more depressing that the present teenage generation face endless problems everyday. We deal with problems like: grades & tests, parents, self-esteem, social acceptance, body obsessions, trying to catch up with trends, bullying, gossip, thinking about the future, and this list can go on forever and ever and ever.
But where does music come in? Well, it helps make life easier.  Music is appealing to teenagers, like you & me, since it helps us discover words in popular songs that mostly express our own feelings & experiences. I think it's great when you can relate how you feel with a top-chart song! It simply encourages us to express our feelings & sensations. The melody & words in a tune has a strong impact on us. It can make life or events more enjoyable, exciting, & fun! That's what we want, right?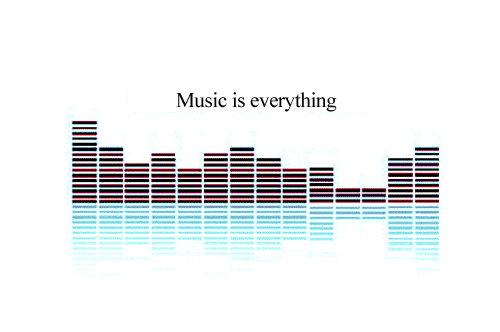 I – and many others – believe that music plays a magnificent role in uplifting our moods. It brings people together & helps us all experience the same emotions. Even though a few people may not like music (I personally think they're abnormal people) the majority of doctors recommend it to stressed, depressed, or just sad people who need to maintain a more happy & positive mood. All in all, music is the pleasant sound that leads us to experience harmony & higher happiness. I probably mentioned this before in my post "Stress", but it's worth mentioning again.
Music doesn't just have personal benefits, but it also has major educational advantages. Yes, it does. So now you have something to say to your parents when they complain that you're listening to lots of music. 😀 Plato – the famous greek philosopher – stated that music is one of the vital aspects of education.
   "Gymnastics for the training and development of the body,
    Mathematics for the training and development of brain, and
    Music for the realization of the soul."
Apart from educational benefits, music also has a great positive result on communication between people. If 2 people were just in a fight or had a heated argument over something… music can be one of the perfect & ideal remedies to make peace & set things back to normal. It's is an agent that is used to educate & deliver messages to people. The lyrics in songs is of great power since it easily conveys messages to friends & enemies, bf's & ex's – that kind of thing.
It's not just normal people (like you & me) who use the power of lyrics to express how we feel towards someone. Nope, the singers use this power too. But maybe singers are just going extreme, with songs going back & forth all the time. All fingers pointing at you Selena Gomez & Justin Bieber. It's just so funny – to me at least. She's like "I'm so sick of that same old love" and he's like "Sorry". Then she she says, or rather sings "Kill 'em with kindness" and he's all like "Let me love you" and "I'd jump into cold cold water for you". Then finally she's like "It ain't me…stop asking me". Did I mention that I really love the melody & tune of It ain't me – I think it's so cool!  I'm not complaining though – all sings listed above are one of my favs, and even though they may or may not be targeting each other (they so are, in my opinion) – I can relate to the songs well. For example: "Kill 'em with kindness" always reminds me to be sickly sweet to my enemies or people who I hate, just to show them I'm the better person.
Music is used in a wide range of different occassions. I've mentioned this before in an earlier paragrpah, but now to go into more depth. It makes events more enjoyable & unforgettable. It adds up to the excitement. Without music, events would really be dull & boring. Think about it..that fair/bazaar, that shop you walked into, that café you sat in during this week or month. Most likely, it was playing music which is popular & well-known among people & grabs your attention easily. The kind of music you sing to in the shower. Surely I'm not the only person who does that, right?  You would be walking or sitting & bobbing your head in time with the music or singing under your breath.

From amore business-related aspect, music is majorly vital in marketing & advertising. All adverts you watch on TV or hear on the radio has music playing in the background. Most probably the music playing would be similar to a poular song at the time, or has a really catchy tune so you would listen in. Imagine if adverts (on the TV or radio) had no background music. It wouldn't be engaging, interesting or fascinating. It would be meaningless & lacking excitement. So here, we learn that music creates interest & inspires provoking thoughts among people.

I read the following on a website and I couldn't agree more: "music serves as a message or symbol that indicates the occurrence that is going on in a particular place or event. For instance, If bad occurrence happen in a particular place the type of music played their will show the audience or listens what happened in that event. The type of music played will justify to the listeners what actually going on there."
The real-life implications of this is shown in theatre performances & even TV series or programmes! In a play, when something bad or unexpected is going to happen…they run this mysterious music "dun dun duuuun" which lets the audience think "What's going to happen?" or "Uh oh! That doesn't sound good!" or similar comments. The same applies to series & programmes.
All in all, music is an amazing, energetic, & useful tool which I guarantee you is used in everyday life! Never underestimate the power of music.
That concludes my post for today! I hope you enjoyed reading it as much as I had fun writing it! Don't forget to comment & tell me what you think! 🙂
Ciao!
Smiling Dreamer xoxo